2016 Membership
Tournament Registration
Now Open!
Past Members login below
New to the Callaway Junior Tour
Join Below
Congratulations to our
2015 Players of the Year &
Scoring Avg. Winners
Click on the image to view the photos!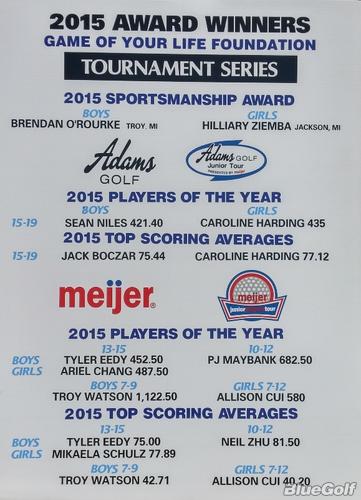 2015 Scholarship Winners!
$400,000 awarded since 1994
Since 1994, G.O.L.F. has been conducting tournaments allowing it's members the opportunity to experience all that the game has to offer.....
Professional Tournaments

Spring, Summer, Fall Events

6 Staff Members at each event

PGA Member Commissioner
PGM Apprentice Director
4 College Interns

Registration, Scoring Tent, & Rules/Pace of Play Assistants

National Rankings on all Mutiple Day events through AJGA & Junior Golf Scoreboard
Largest Competitive fields in the State for boys and girls ages 15-19

Scholarships

Commitment to Players
Commitment to Competition
Commitment to Sportsmanship